Goldenseal Root | IMMUNITY | AYURVEDIC MEDICINE | NATURAL ANTIBIOTIC
Goldenseal Root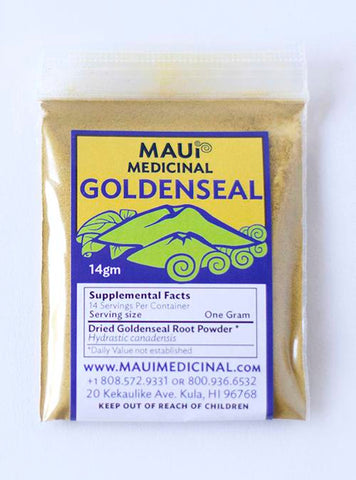 GOLDENSEAL Root *USA Grown*Hydrastis canadensis 1/2 Ounce Powder - $17.99 **2 Golde...
ECHINACEA + GOLDENSEAL Alcohol Free | 1oz (30ml) Orange Flavor You know our "ISLAND ...
GOLDENSEAL ROOTHydrastis canadensisBotanical Extract | 1oz (30ml) Kick up your immuni...
Goldenseal is a bitter American folk and Ayurvedic medicine. It is a popular ingredient in many herbal remedies because it carries antiseptic and antibiotic herbal properties of its own, and enhances the potency of other herbs. Goldenseal is commonly used to help support a healthy respiratory function and boost the immune system. It is commonly used in eyewashes to treat infected or inflamed eyes and brewed as a tea for stomachaches.
Goldenseal carries alkaloids - a term describing organic compounds of plant origin that have pronounced physiological actions on humans - that stimulate bile production and secretion but destroy unpleasant bacteria in the G.I. tract. It has been used to treat vaginal yeast infections as it is known to reduce the inflammation of mucous membranes, to control uterine hemorrhaging and destroy harmful bacteria and other germs.
In Ayurvedic medicine, goldenseal is known to be a cooling antibiotic and to be used only when one is weak deficient or emaciated. If used too long or in excess it can, like antibiotic drugs, destroy the good as well as bad bacteria. Goldenseal is also known treat parasitical infections. It is also known to sedate and regulate the liver and spleen function, sugar and fat metabolism and reduce toxins and excess tissue  from the body.
ACTIONS
Immunity Boost
Healthy Respiratory System
Vitamins and Minerals
Cleanse and regulate glands
Antimicrobial
Detoxicant
Antibacterial
Please visit our Disclaimer for information about any of the statements on our website.
Mauimedicinal On Instagram