Herbal Healing Noni Oils, Capsules and Juice Online - Mauimedicinal.com
Noni
NONI FRUIT | Morinda Citrifolia  120 Veggie Capsules | 400mg   You know our Noni Whol...
KONA NONI LEAF OIL 2oz Medicated Oil | 59ml Healthy Hair and Glowing Skin Noni is fu...
KONA NONI | KUKUI NUT OIL1oz Medicated Oil | 30ml Naturally relieve, protect, and re...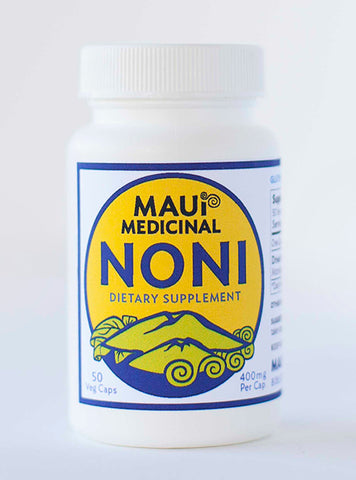 NONI FRUIT | Morinda Citrifolia 50 Veggie Capsules | 400mg Dried Whole Noni Fruit Powd...
NONI FIVE STAR THROAT SPRAY  Noni | Ginger | Turmeric | Myrrh | Frankincense with Per...
NONI | Morinda Citrifolia 90 Veggie Capsules | 400mg Noni is known to hold powerful an...
Noni trees thrive in the sun along the coasts throughout Polynesia. It was a widely used plant for its medicinal healing properties to be applied to boils, cuts, abcesses and inflammations of various types.  The crushed fruit was used to treat infections of the mouth and gums for sore throat and toothaches, stomachaches. The plant has a pungent odor. For this reason it was known as the ghost medicine. The crushed Noni leaf juice was applied to the eyes, nose, mouth or in massage as the belief was the ghosts were repelled by the plant's odor.
Hawaiians used the Noni leaves in addition to treating boils, to wounds and fractures. It was also used to heal ailments like diabetes, high blood pressure, and loss of appetite. It is known to help with urinary tract ailments, abdominal swelling and burns due to its potent anti-inflammatory properties. 
HEALING NONI ACTIONS
Anti-Inflammatory
Antioxidant
Immunity Booster
Anti-Depressant and Memory Stimulant
Noni is known to stimulates seratonin and melatonin, two very important hormones, which affect mood, emotions, and sleep; imbalance in levels of serotonin may contribute to depression. Noni has a large amount of phytosterols which keep the brain properly oxygenated. This directly helps your brain stay healthier.
Digestive Aid / Laxative
Noni is high in soluble fiber full of vitamins, minerals and antioxidants to help ease the strain on your intestines and softens stool. Users have experienced significant weight loss from taking Noni.
Natural Antibiotic
Cough Relief
Kidney Strength
Liver Regulation
Nausea Relief
Sedative
Anti-Aging Properties
DISEASES NONI IS KNOWN TO HELP HEAL / OFFER RELIEF
Arthritis
High Blood Pressure
Depression
Diabetes
Diarrhea
Drug Addiction
Gum Disease
Heart Disease


TOPICAL USE
Healthy Hair and Glowing Skin
Noni is full of amino acids, Vitamin A and C and multiple medicinal compounds that build smooth, youthful and radiant skin and scalp. It's commonly used to fight skin conditions such as acne or eczema. It is also great to rub on joint pain associated with arthritis and rheumatism.
TRADITIONALLY USED TO TREAT / OFFER RELIEF
Boils
Burns
Concussions
Cuts
Gout
Insect Bites
Haole Rot
Skin Infection
Sprains
Wounds


Please visit our Disclaimer for information about any of the statements on our website.
Mauimedicinal On Instagram